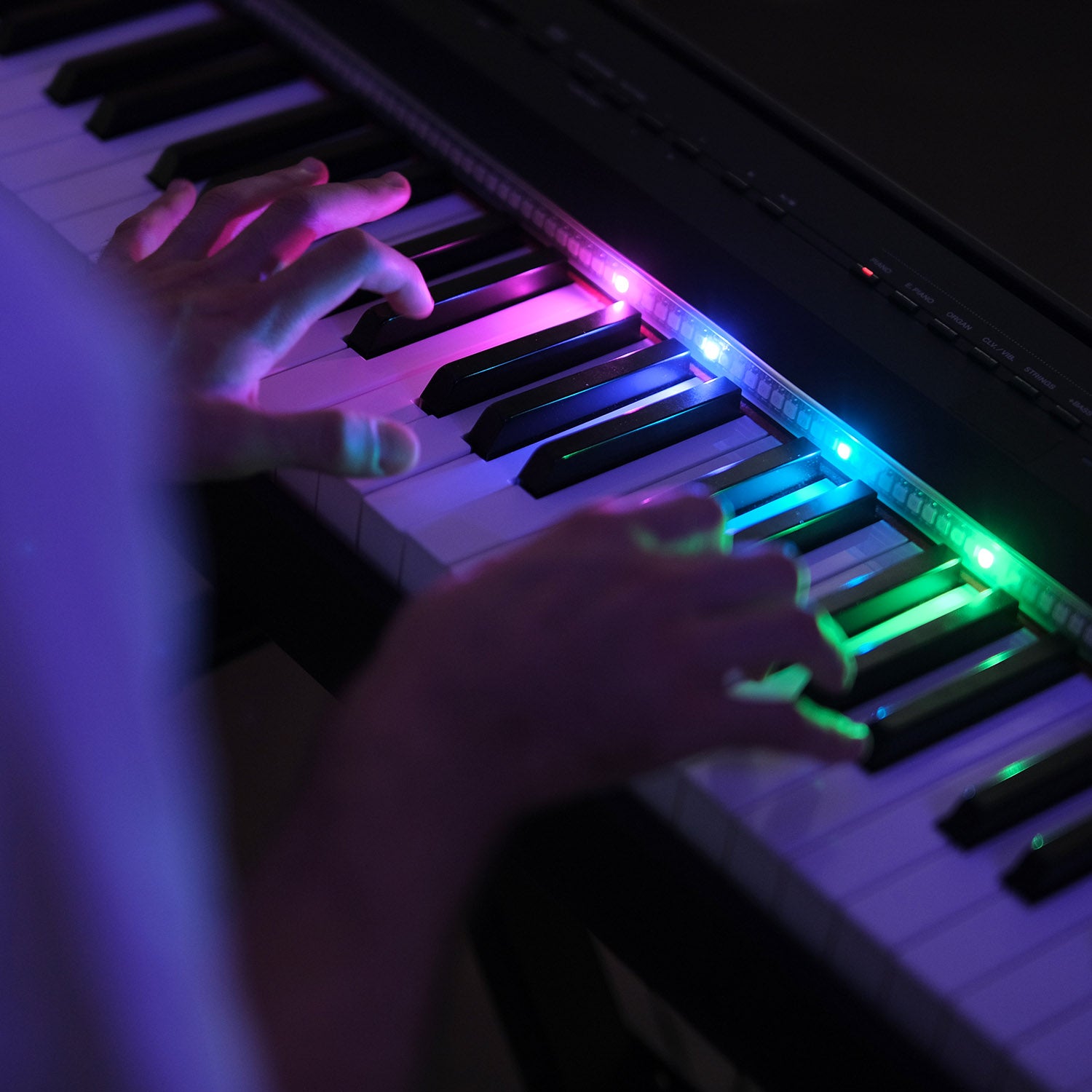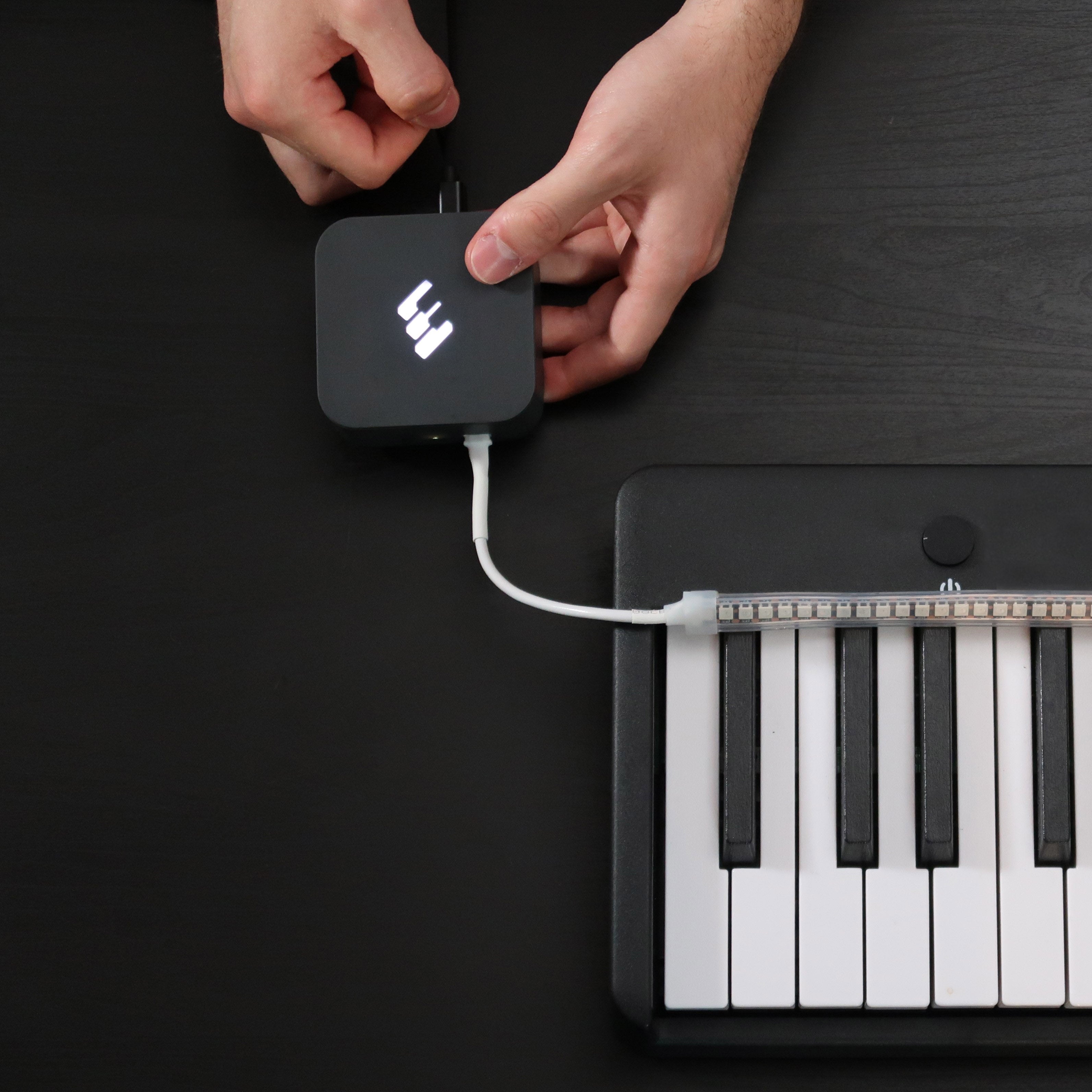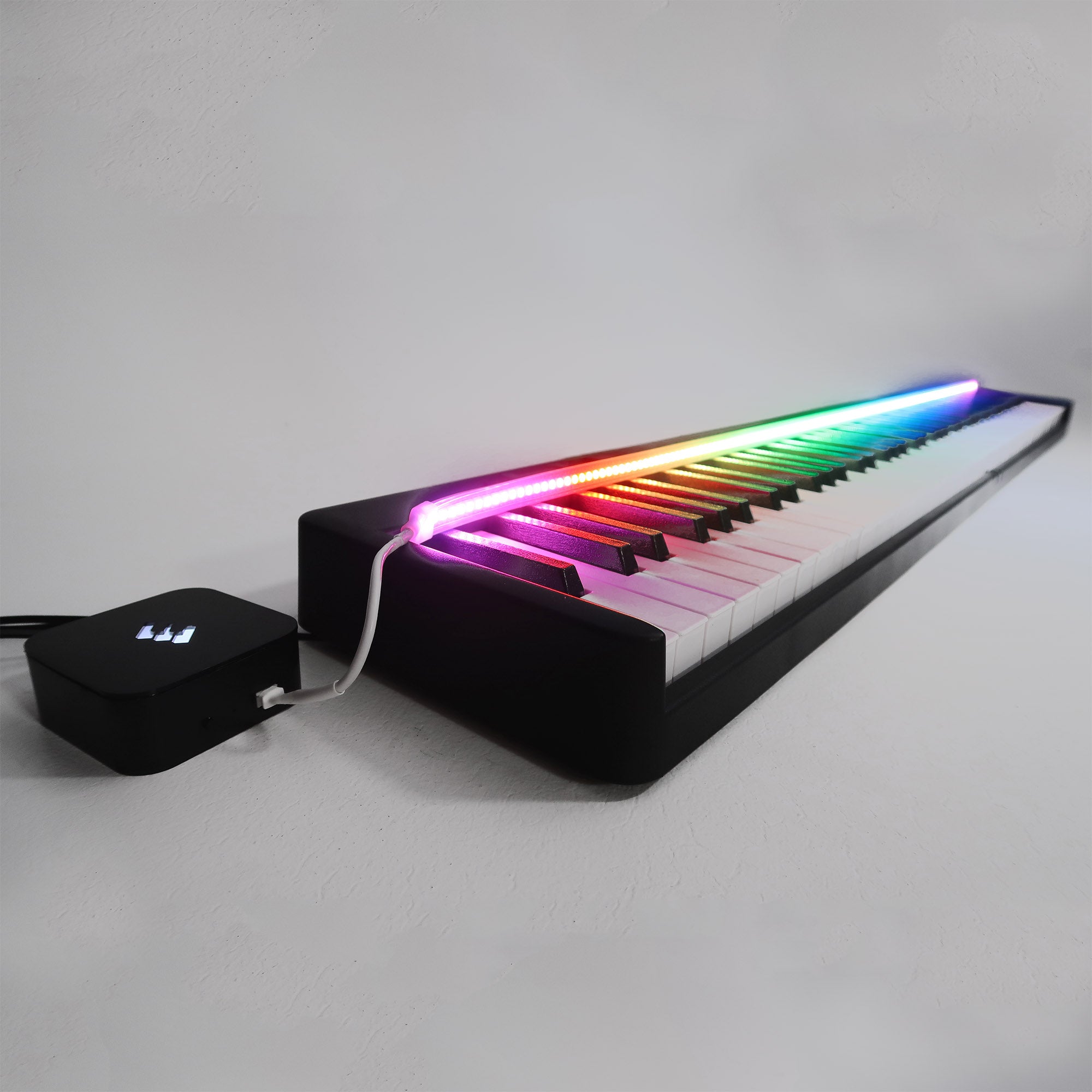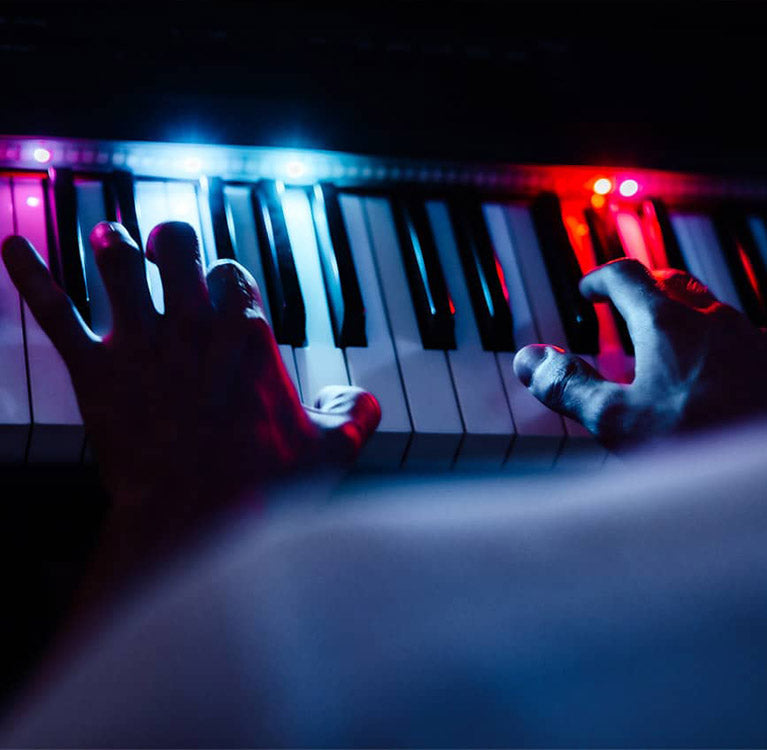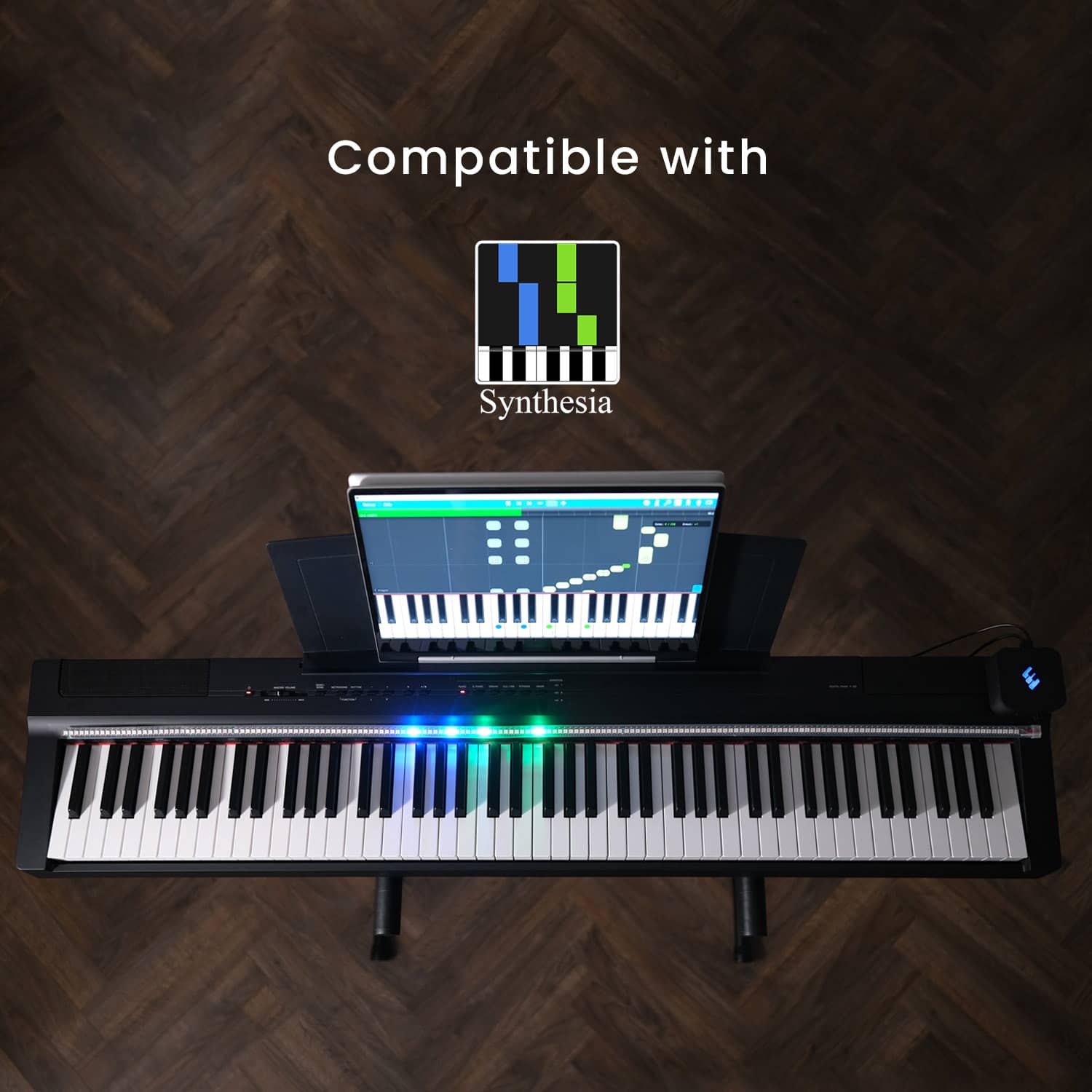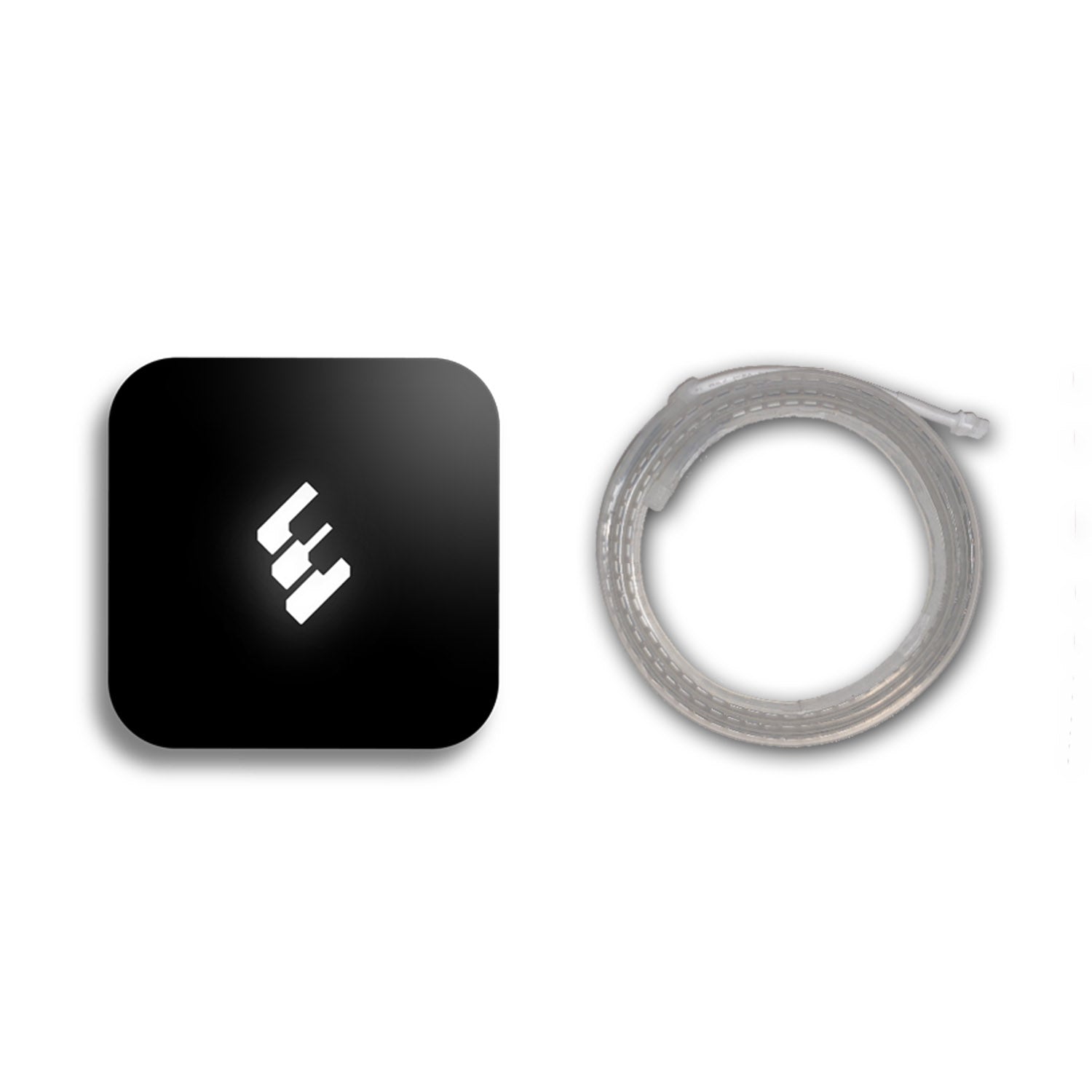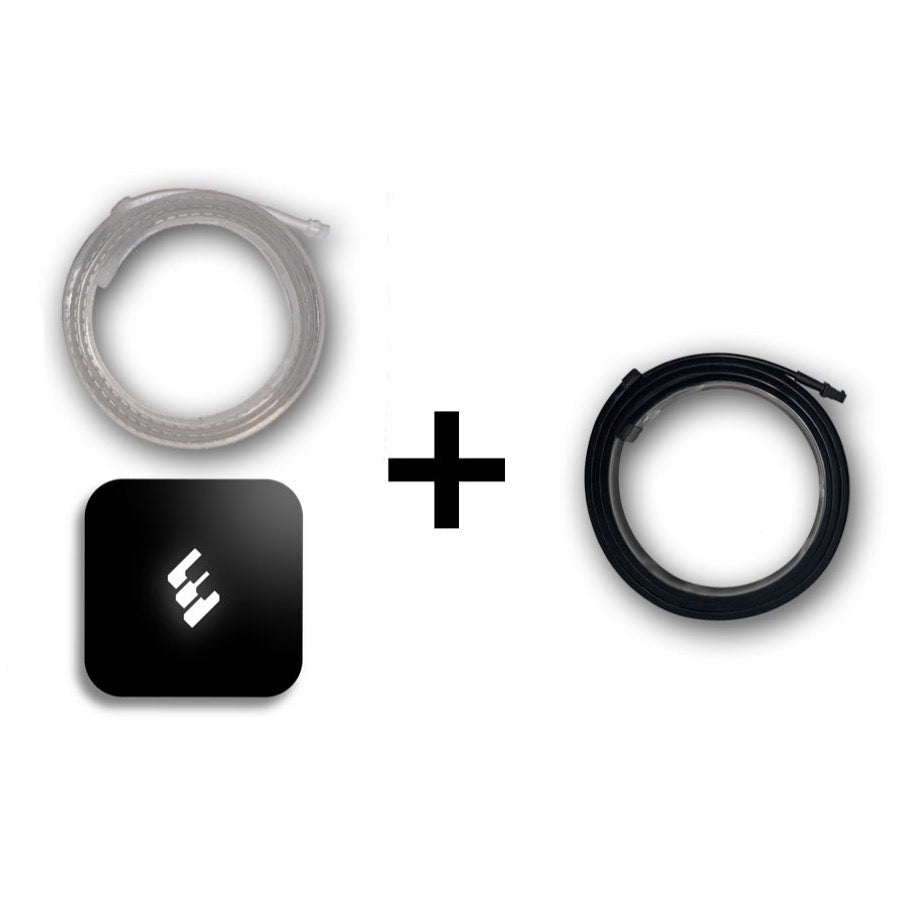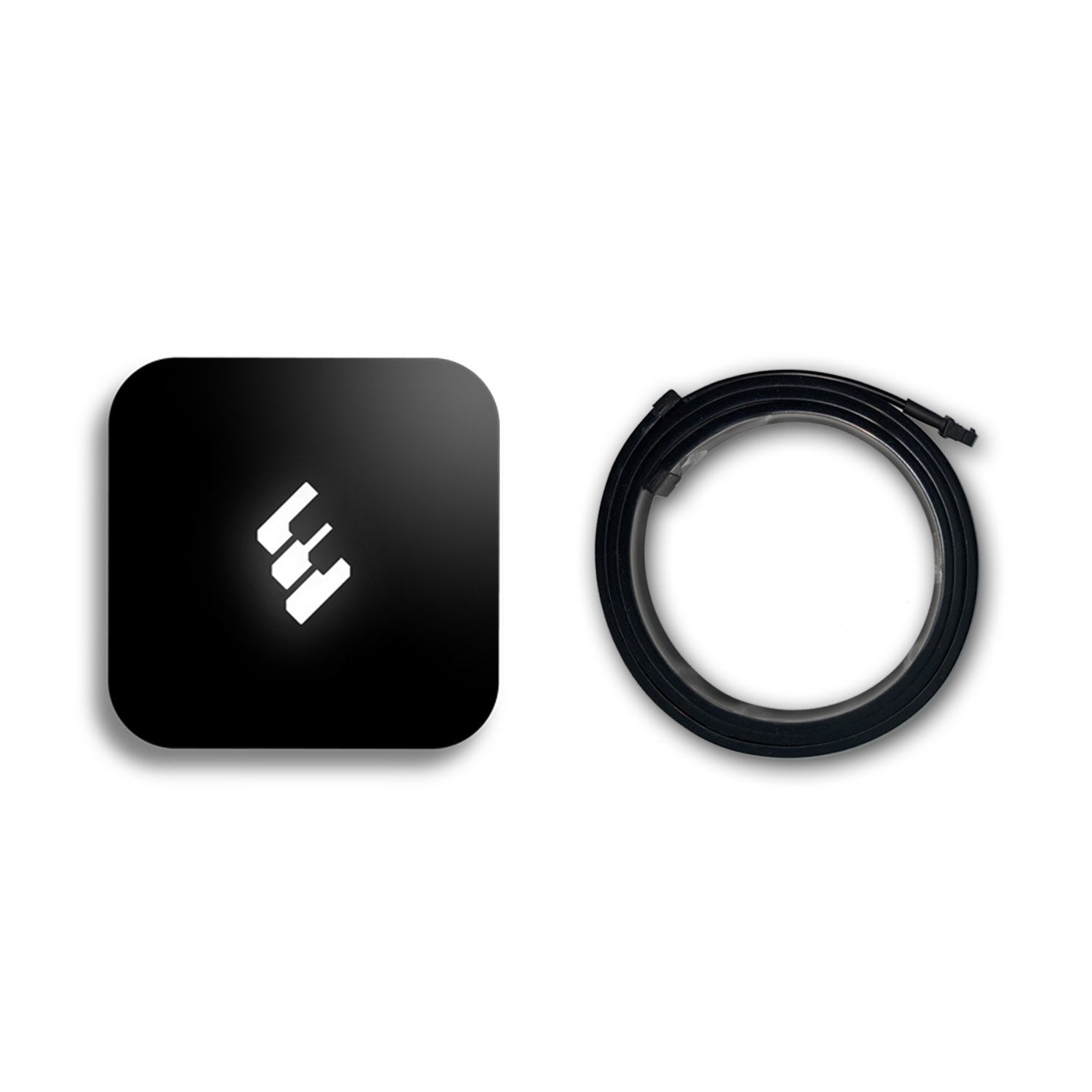 Piano LED Plus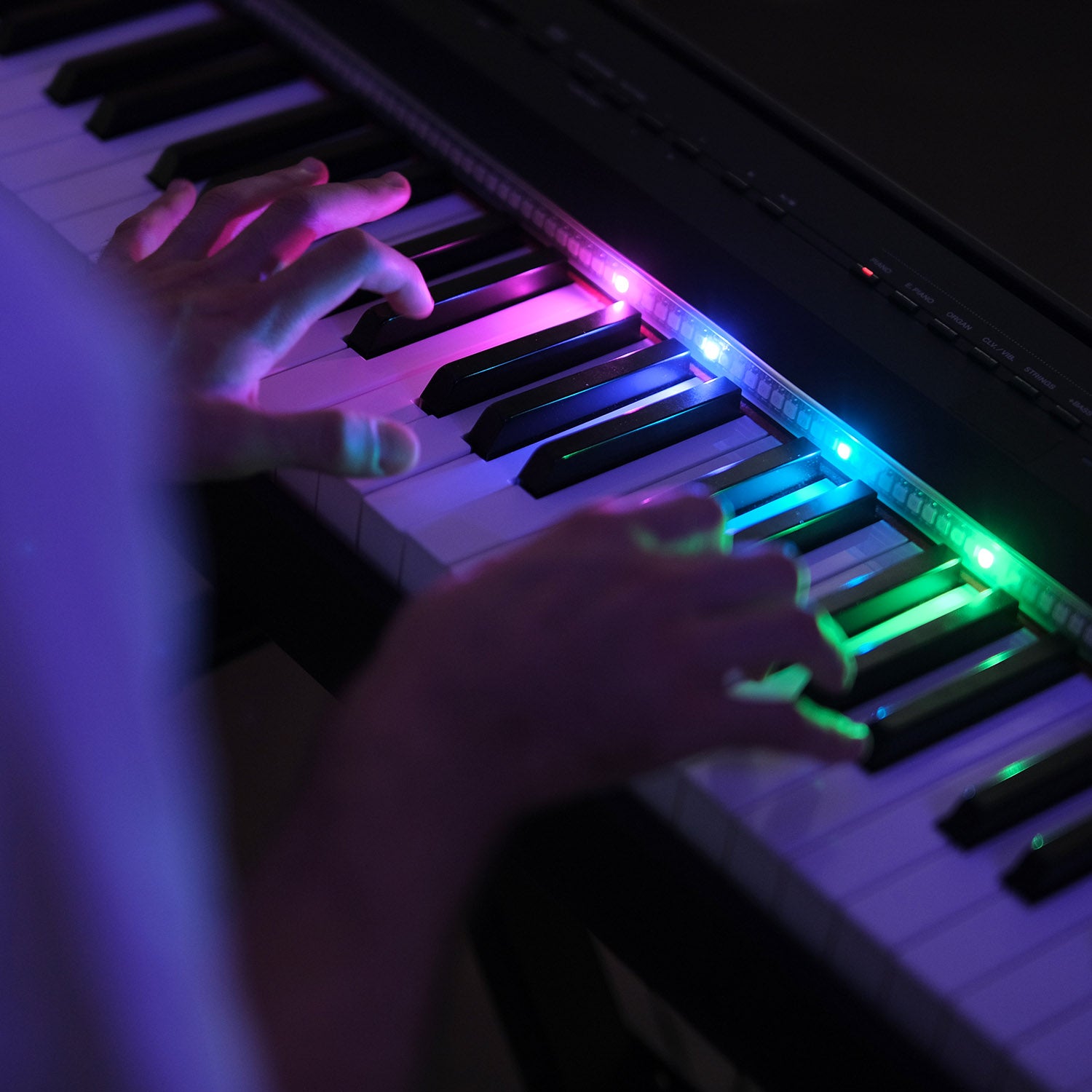 Product description
With Piano LED Plus, discover a new way to learn the piano. Piano LED Plus includes a whole new educational dimension. The system allows you to learn songs using its internal software and Piano LED Webapp to control it. It plays back any MIDI file on the LED strip and waits for the LED-illuminated keys to be pressed to move on in the song. In addition, Piano LED Plus is compatible with the popular Synthesia computer software. You can simply connect to it via Wifi.

This software gives you an immediate feedback showing how you played. Long term tracking shows how you're improving. In this way, you can track your progress. You can enable musical notation for any song. Or, leave it turned off and just enjoy the falling notes. It can also remind you which finger is best.

The combination of Synthesia's pedagogy and the physical input of Piano LED Plus has created a powerful tool for learning the piano.
Please note that Synthesia is an option for learning, the internal Piano LED Plus software is more than sufficient.
Discover the app
Transparent/Black LED strip comparison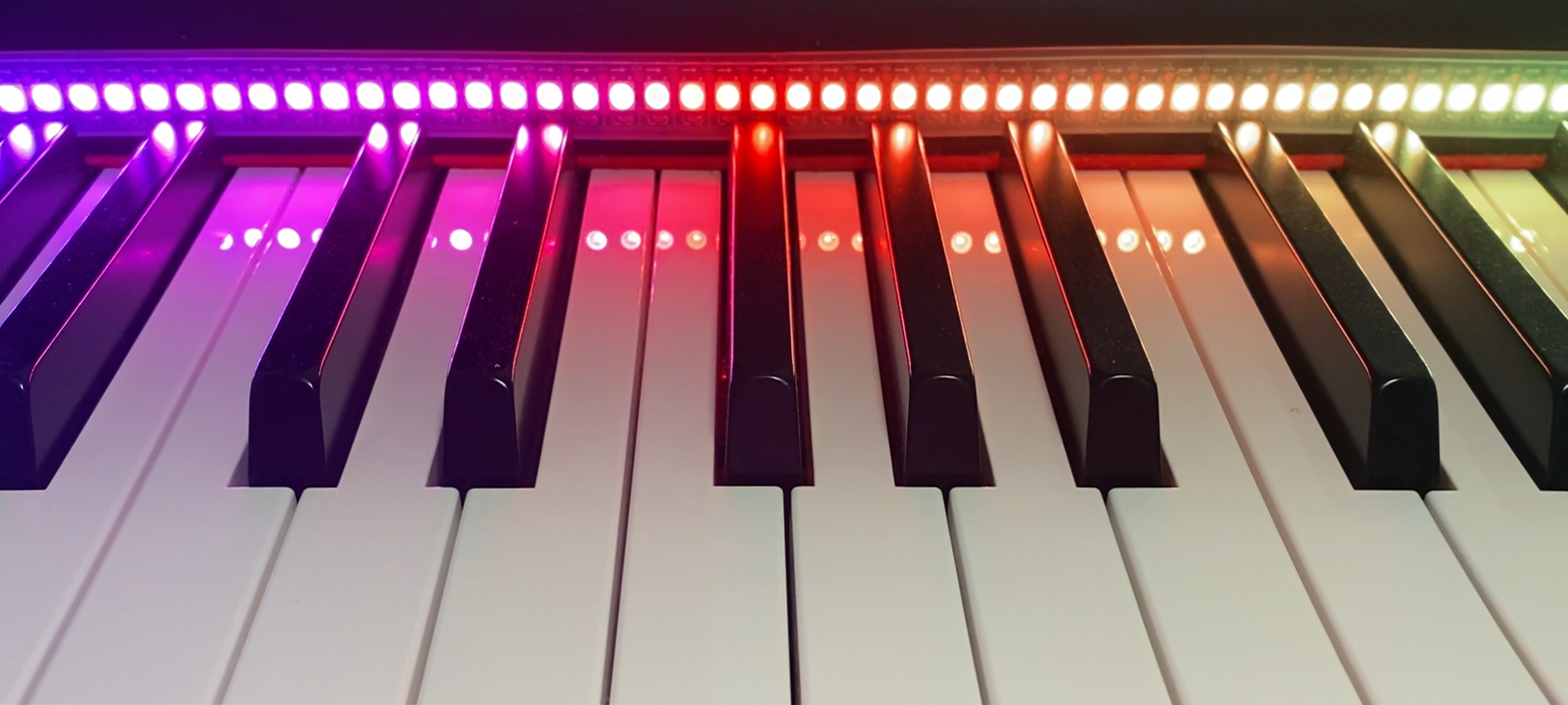 Transparent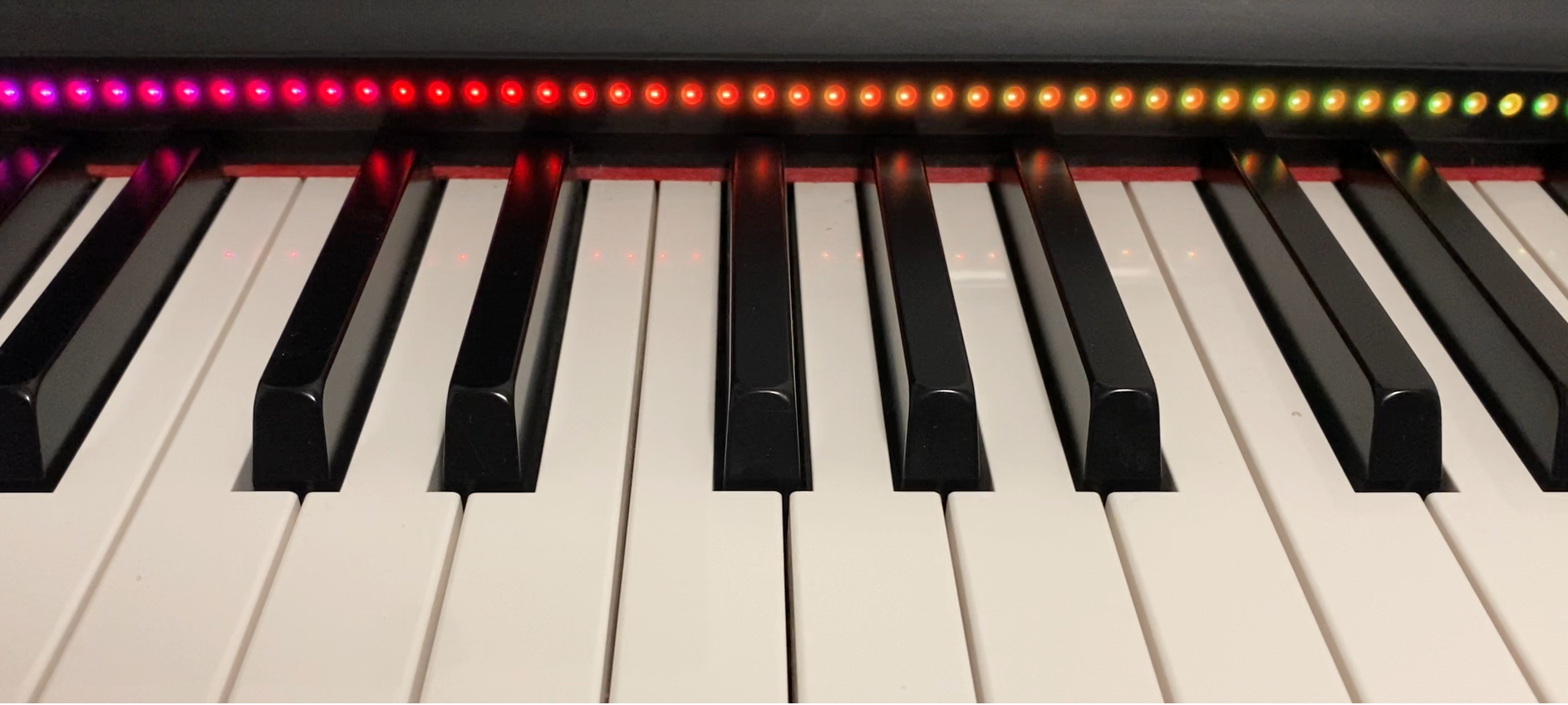 Black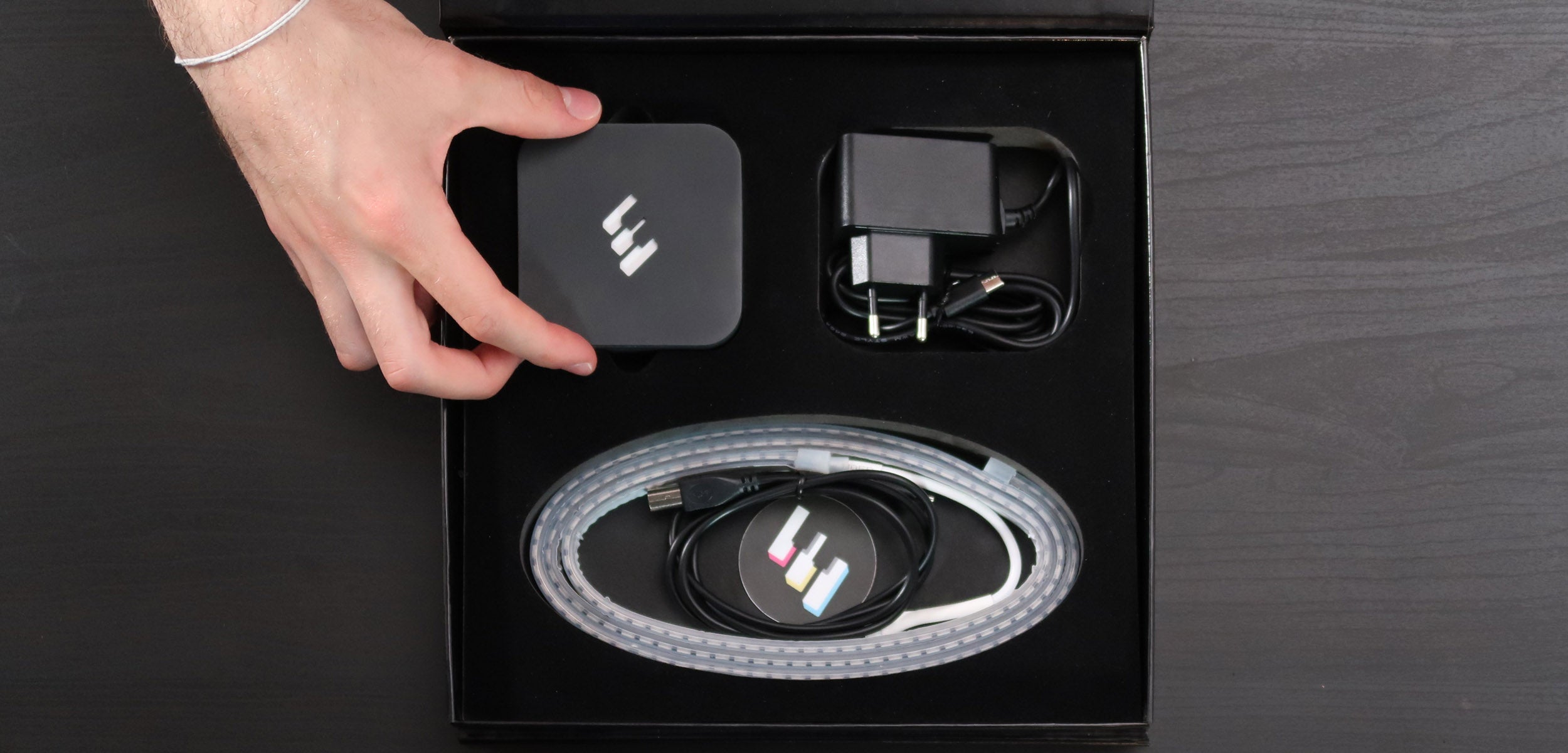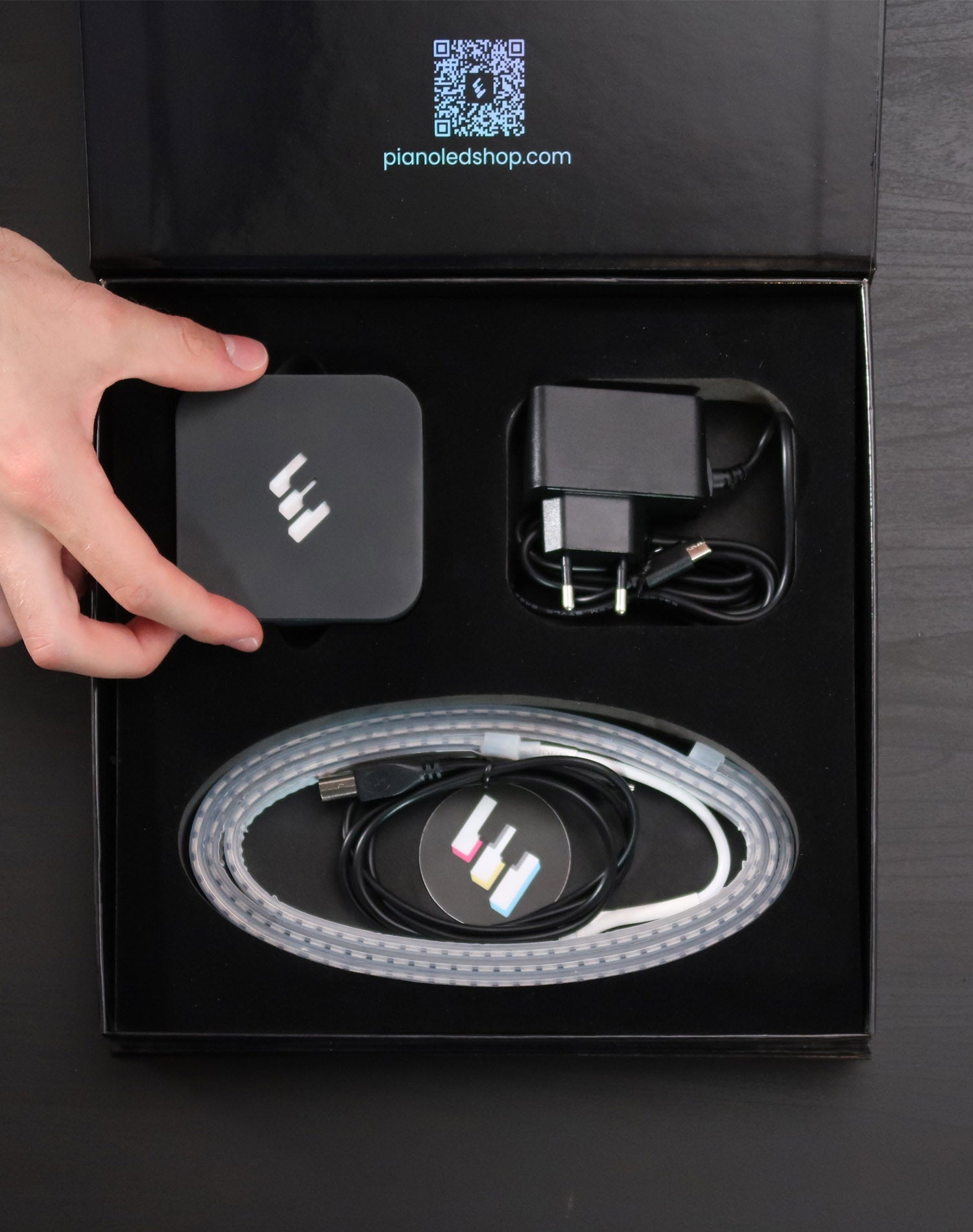 USB B to Micro USB cable
Plug Piano LED Plus to your piano with this cable. Please note that you can also plug Piano LED Plus to a Midi port.
Piano LED Plus System
All the power of Piano LED is included in this small box.
EU/US power supply
5V, 3A USB C power supply
Black OR Transparent LED strip
A smooth LED strip adaptable to any piano size.
Have a question? We are here to help.
If your digital piano has a USB B or a MIDI port, it's fully compatible!
What's the difference between TRANSPARENT and BLACK LED strips?

- The BLACK LED strip has been specially designed for the Piano LED Plus learning function. Its LEDs are less diffuse and more focused on the keys. It's less bright than the TRANSPARENT one.
- The TRANSPARENT LED strip is more focused on the aesthetics of the Piano LED Plus system. It is highly coveted by artists.

Of course, both LED strips can also be used for learning songs.
I can't find Piano LED application on the Appstore/Google Play, where can I find it?

Our application is a webapp delivered with Piano LED Plus system. You need the system to access it. For more information on this application: About the app
My piano has fewer than 88 keys. Is Piano LED Plus still compatible?

Yes, that's not a problem. You can adjust the number of active LEDs on the LED strip directly from the application. Also, the LED strip can be cut to fit the length of your keyboard.
What kind of files can I import into the system?

In the application, you can import your own .MIDI files for use with the LED strip.
We also offer in this app an online bank of .MIDI files, validated by our team and regularly updated.
My piano has only one MIDI IN/OUT port (2 rounds with 5 pins). Is Piano LED Plus compatible?

Yes, Piano LED Plus is compatible. However, we only supply the USB cable in the box, which is suitable for most digital pianos.
I'm using Synthesia / SeeMusic software, is your system compatible with this software?

Yes. Our system can connect also to Synthesia via wifi. In this way, you have the scrolling notes on screen synchronized with your ledstrip. You can also record your tracks as midi files with our system and then export them directly to your PC via Wifi. Once the file is on your PC, you are able to use any software you want to edit this file, including Synthesia and SeeMusic.
Check out the most common questions our customers asked. Still have questions? Contact our customer support.
See FAQ
This product is rated 5.0 of 5.0 stars.
It has received 1 review.